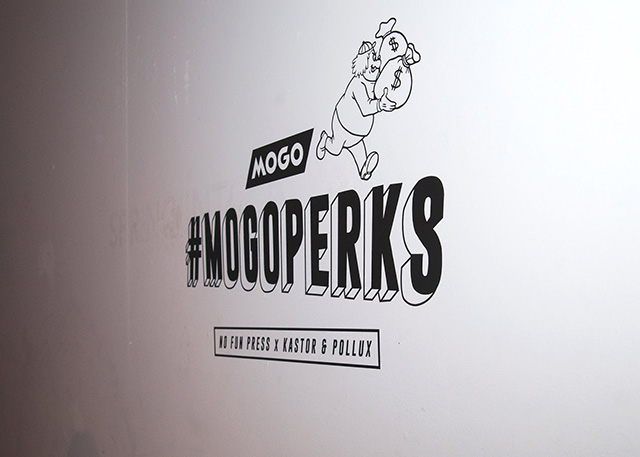 Mixing a finance company with cool, unique art and design installations, and a musical rap performance all in one evening is typically unheard of, and to some – absolutely absurd. However, Canadian finance company Mogo, held their first-ever Toronto "Mogo Perks" event in the city's Queen West district at the NSC Gallery on Thursday, April 30th. Celebrating the spirit of collaboration through local talent across creative disciplines, the invite-only event was produced by creative collective Kastor & Pollux.
"We partnered with creative influencers, and one of our favourites is Kastor & Pollux," said James Owen, VP of Communications at Mogo Finance Technology Inc. "We asked them to throw a party for us as part of our Mogo Perks event for our members. From then, they reached out to other young creative participants."
Mogo's "Mogo Perks" initiative is to give back to their customers. Once they become a member, they have immediate access to free perks including: cool giveaways, treat of the month awards, invites to exclusive Mogo events, and opportunities at having free credit scores. With that being said, every week they give away cool prizes from great brands like: Warby Parker, Beats, Aritzia, and many more. In addition, as a Mogo member, they're also entitled to free products and invites to exclusive events every month.
Headlined by accessories brand No Fun Press, the party also featured a musical performance by rapper Drew Howard, plus an installation by Toronto artist Trevor Wheatley. The eclectic event was a success as it welcomed 200 of Toronto's most notable creatives and influencers, including guests from editorial partner The Creator Class whose focus is on creatives sharing their passions in music, style, adventure, arts and culture with a global audience of aspiring peers.
"Up until this year, Kastor & Pollux has been primarily focused on creating fashion culture in digital spaces", says Danielle Roche, founder of Kastor & Pollux. "Our continued alliance with Mogo is a great opportunity for us to create culture through collaboration with artists outside of the fashion community. Producing the first Toronto 'Mogo Perks' event allowed us to apply our knowledge of the digital world to a tactile space. We're really happy with the turn out."
In a creative culture filled with young individuals whose lifestyle tastes tend to far exceed their cost for living, Mogo has figured out a way for them to uncredit card their life by doing more and spending less. With no monthly fees, the Mogo Prepaid Visa Card encourages them to control their spending and avoid the aftershock of credit card debt.
"The benefits of the credit card is you can use it online, use it for your travel, use it however way you wish. It has all the benefits of a credit card but you're using your own funds by topping off your card at your convenience whether it be every week, every month, and therefore, it's your money you're spending— no body else's! There's no credit, it's all about your own spending."
Mogo is a Canadian finance company that supports the new breed of young people who grew up in an Internet world; the tech-savvy generation that tends to get carried away with their money. With that being said, the MogoCard gives them the convenience of a credit card and the control of a debit card with no monthly usage fee.
"This concept came about because Canada has a real debt problem; individuals in Canada have an average of $27,000 of unsecure debt. It came about because we feel the need to help the problem that Canada is facing right now," says James. "It's about recognizing if you have a financial issue, come to Mogo; get rid of your debt, uncredit card your life, and have a do more, spend less lifestyle."
Through Mogo's products, services, contests, and events, the evening's party was one of the financial company's "Mogo Perks" rewards for its members and featured prize giveaways including: limited-edition Kastor & Pollux x No Fun Press pins, cash prizes up to $500, and pizza and booze on the house all night.
As the night progressed, the crowd mix and mingled; laughter and music filled the space; dance moves and Pabst Blue Ribbon paired well; metallic balloons shaped in money signs floated above the crowd; and photographs alongside sculptured installations with the words: Eat Shit, Anti-You, and Ice Cold, were a huge hit!
"We want to tap into any age group that wants to uncredit their life. This particular party is about this particular demographic. Mogo is about having cool times with various crowds," James said with a chuckle as he watched the crowd bob their heads and throw their hands up during rapper, Drew Howard's performance.