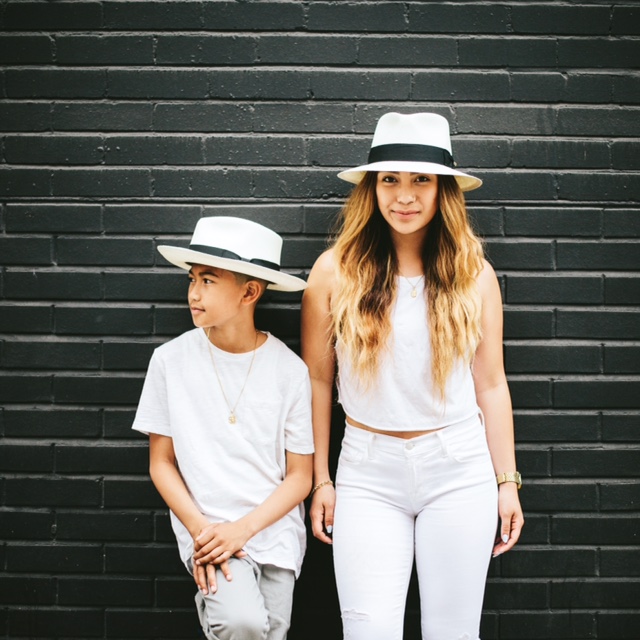 I was contacted by Talya Macedo; friend, publicist, stylist, creative, and founder of HERcollective. She wanted to feature my son and I in a creative project in conjunction with Brimz and Toronto-based photographer, Taha. Being that I'm a sucker for collaborative projects (especially with local talents and brands), I was totally in! My nine-year-old, Elijah, is far from camera shy and was immediately down to work once I pitched him the concept. Brimz is a quality hat boutique (since 2010) in the city's eclectic and cultured Queen St. West district. The concept of the shoot was to feature some of Toronto's young creative social influencers. As creative multifaceted individuals, it's almost inevitable that we wear many "hats" so to speak. With that being said, each talent was styled in a hat by Talya, photographed by Taha, and asked one specific question that's primarily geared towards their lifestyle. In my case, as a freelance journalist, blogger, social media guru, stylist, and mommy, my question was geared towards balancing creativity with being a mother.
Balancing creativity with being a young mother goes hand-in-hand quite seamlessly when you have the most loving and supportive nine-year-old on your side who believes yourself to be famous! It's actually quite hilarious and cute! I personally feel like being a creative and showing your child to express themselves creatively in various ways (through their talents) to achieve their goals and dreams is a beautiful and organic way to live.
Yes, my schedule gets crazy at times and some days I'm hopping from one event coverage to the next, followed by styling clients during the day. Life gets crazy and unpredictable but communication with your child is key. My son, Elijah, is very much aware of my lifestyle and the lifestyle my creative job titles entail. He actually admires it and thinks everything I do is super cool. He also makes sure to like all my pictures on Instagram (by his own will). He's as much of a fan of mine as I am of his! Sooner than later, he'll be my +1 to all my media events. I can't wait!
Balancing creatively with Elijah, who'll be 10 in August actually works out because I'm just as supportive of his talents and aspirations. I'm a proud mom to a competitive dancer, basketball player, track-and-field runner, relay runner, and long jumper! He's just as busy as I am with his extra-curricular activities! Both him and I are never not doing anything to better ourselves and the development of our future.
One thing we definitely have in common is style. As a stylist, he definitely picked up quickly and got the game down pat. Not only is he my son, he's my best friend, little brother I never had, and my future business partner/boss.